Maximising Value for Defects and Repairs
In the dynamic world of facilities management, there's a growing concern over the increasing costs associated with repairs and maintenance. Traditional industry practices continue to obscure pricing transparency for labor and parts, thus creating a financial strain on facility budgets. This trend impacts not only immediate costs but also carries long-term financial implications for businesses. Consequently, the urgency to ensure cost-effective facility management has become more pressing than ever.
Procurement Practices Stifle Value 
The Fundamental Issue – A Flawed Contractual Relationship
Facility Managers are pressed for time and face significant barriers when engaging suppliers to carry out defects and repair work. The procurement process makes defect and maintenance work difficult, time consuming and resource intensive.
Standard industry practice often sees Facility Managers locked into Preventive Maintenance (PM) contracts. Whilst these contracts facilitate the delivery of 'periodic' PM in a facility, it consistently results in the incumbent PM contractor receiving all Reactive Maintenance (RM). Standard industry practice is for contractors to underprice PM contracts to gain the more lucrative RM jobs that flow from it. These RM jobs can be charged at very high rates as FM's have limited resources to get comparative market quotes.
The contracts consist of intense procurement and contract management hurdles to ensure compliance with procurement rules and policies. Despite having extensive contractually binding documentation in place, this relationship creates fundamental service delivery issues including:
Over-reliance on Incumbent Contractors With Non-Competitive Pricing: : The time-consuming process of onboarding new contractors under PM contracts often leads to an over-dependence on existing contractors. This in turn often results in inflated prices and a lack of competitive pricing.
Difficulty to Track Service Delivery Cost & Quality: There is a significant challenge in tracking agreed-upon parts and labor prices, including agreed markups. This difficulty contributes to financial and operational losses, as facility managers struggle to ensure that maintenance work meets regulatory standards and quality expectations.
Complex Contractural Landscape: The scope of standard PM contracts often excludes Reactive Maintenance (RM), leaving urgent repairs unaddressed. The intricate nature of these contracts creates a gap in service delivery, where RM work falls outside the contractual agreement, posing challenges in addressing immediate maintenance needs.
Transparency and Compliance Issues: Ensuring maintenance work meets regulatory standards and quality expectations is challenging without transparent reporting and auditing. Facility Managers often find themselves with overwhelming paperwork and unverifiable claims.
Cost Control Tracking and Monitoring Challenges: Facility managers frequently face challenges in controlling and monitoring pricing markups by contractors.
Administrative Overload: The process of manually tracking and validating contractor work imposes a significant administrative burden. This manual approach consumes time and is prone to errors, complicating the management of maintenance tasks.
Facility Managers are already time poor and face significant barriers to engaging suppliers to carry out defects and repair work. The procurement process makes defect and maintenance work difficult, time consuming and resource intensive. FM's need support to get facilities work done in a compliant, timely and cost-effective way but the procurement process hinders this outcome.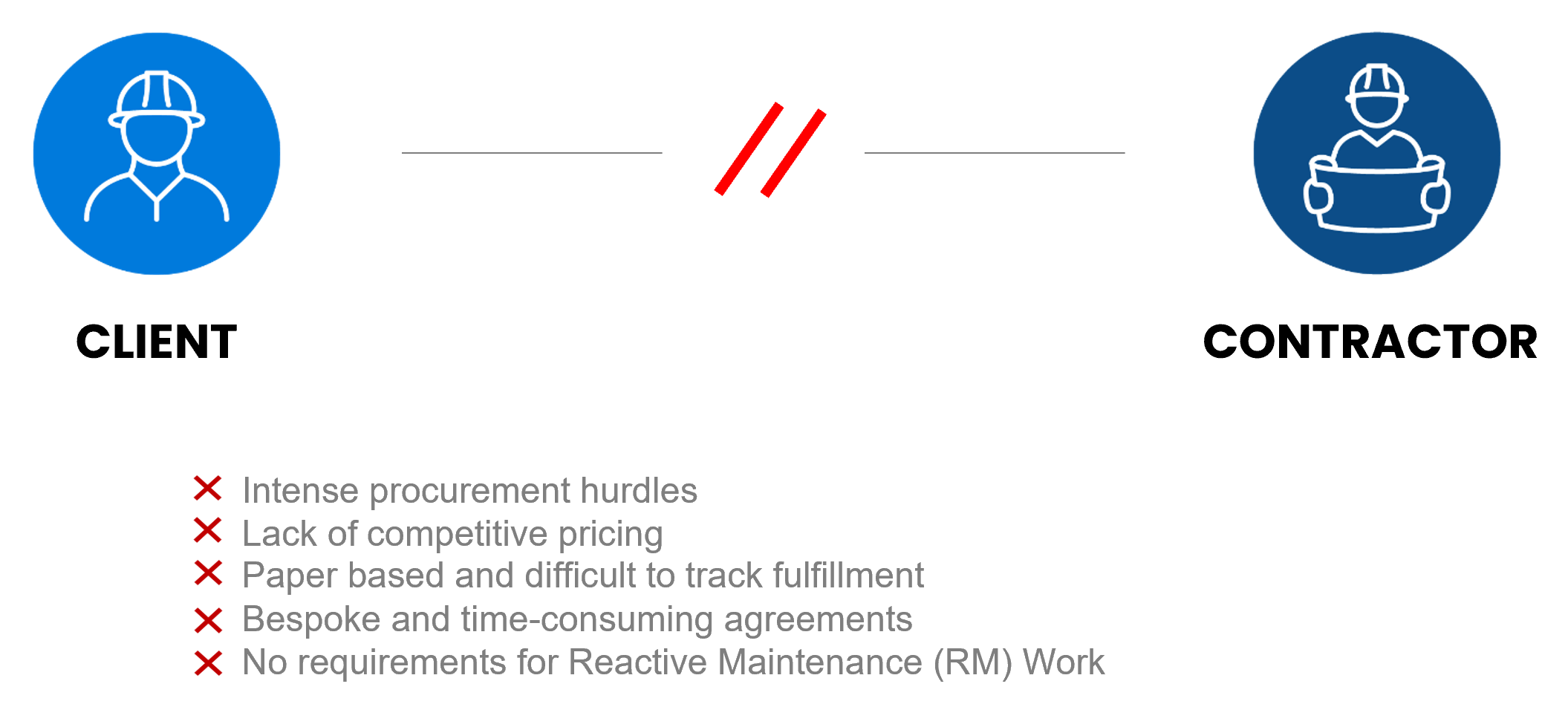 Streamlining Processes for Facility Managers
Verified provides a digital quote platform that easily allows FMs to close the fundamental gaps within the procurement cycle. Based on two decades of data capture and analysis, Verified has identified the most common situations that result in significant lost value and overcharging, consistently capturing value and enabling clients to get competitive pricing (sometimes even 50% cheaper than the incumbent PM contractor!).
The table below highlights the four operational inefficiencies and how Verified's platform continues to close the gap for industry best practice within the defect and repair cycle
Industry Problem
Verified Functionality
Results

1.  Facility Managers do not get comparative quotes for repair work

 

Verified provides the Facilities Manager with:

A single and complete digital quote platform for contractor comparison
A streamlined process to efficiently provide quote information to third party contractors and receive and evaluate market quotes from multiple parties
An easily accessible history/database of quotes to understand trends and movements over time

Efficient quote management tool. Significant time and cost savings. Allows FM to easily get competitive pricing that is up to 50% cheaper than the incumbent PM contractor.
2.  When approving quotes, Facilities Managers cannot remember multiple parts and labour pricing across many contractors.

Verified's quote management module:

Digitally compares the agreed pricing between you and your contractor for parts and labour.
Digitally checks the pricing based on the quoted rates.
Flags discrepancies and alerts management for review.

Businesses obtain contracted services at historically agreed rates – no discrepancy in pricing.
3. Excessive mark up on the use of subcontractors and for the provision of specialised goods and services.

Verified holds the contractor accountable by:

Forcing the contractor to upload evidence, (a suppliers' invoice) to the digital platform.
Confirming the invoiced amount has the appropriate contracted markup applied.

Businesses can verify the contractor's applied rates instantly versus market rates – full transparency in pricing
4. Contractors inflate labour times to increase quote value.

Verified's digital quote tool:

Tracks the quoted work until completion.
Compares the quoted labour to the time the contractor was actually on-site delivering the repair.

FMs will now know when a contractor has inflated the hours on a quote by comparing quoted time to actual time on site.
Capturing Lost Value & Simplifying Your Facility Manager's Role 
As company building portfolios grow, the need for full visibility and transparency in repair and defect work grows too. Facilities Managers need a complete digital platform to manage their competitive procurement processes from end to end, streamlining new quote processes and managing existing contracts with regards to parts and labour. Companies need to ensure each dollar is being stretched further with:
Gaining greater clarity on the work being undertaken and its status;
Requiring contractors to provide full transparency on workflow (parts, labour, time spent on site etc); and
Avoiding being charged inflated rates and markups as part of their important repair and maintenance work.
Interested To Hear More?  
Verified enables complete transparency on contractor engagements and performance with a focus on 24/7 data capture, real time visibility and a single source of truth. Clients have continually realised significant savings (in some cases up to 50% for defects and repair work) with our market leading platform.
For further information on how you can achieve the best outcomes on your building repairs and defects, call 1300 133 950 or email [email protected]