Verified 2022 – Our Year in Review
With 2022 coming to a close, we are taking the time to celebrate our client's successes and wins. The beginning of the year saw all businesses continuing to adapt to the impact of COVID-19. For Verified this meant the perfect time to work with our client base to evolve Verified and its products suite, implementing new technological solutions and best practice. With our innovative product solutions, we onboarded one of Australia's biggest property groups, Goodman Group and introduced a powerful new module, Quote Management for our client base. More details are below on how Verified and our clients have thrived during 2022.
From Good to Great: Verified's Product Enhancements
In 2022 Verified evolved its core infrastructure to release an entirely new and upgraded version of our in-the-field data platform. This update has allowed clients to work efficiently and manage emerging risks via a simplified, more intuitive workflow. Additional improvements have included:
Performance: New infrastructure technology that delivers superior software performance
Enhanced Security: Strong coverage to address the latest security vulnerabilities
Self Service: Enhanced functionality to enable user self-service
Experience: An overall better user experience for in the field contractors and staff
Further software upgrades have ensured the platform continues to run smoothly for our clients, maintains compatibility with devices and aligns with technology best practices. As a web-based app, we deployed these new upgrades and platform enhancements, quickly and efficiently ensuring clients are using the market-leading technology as it becomes available.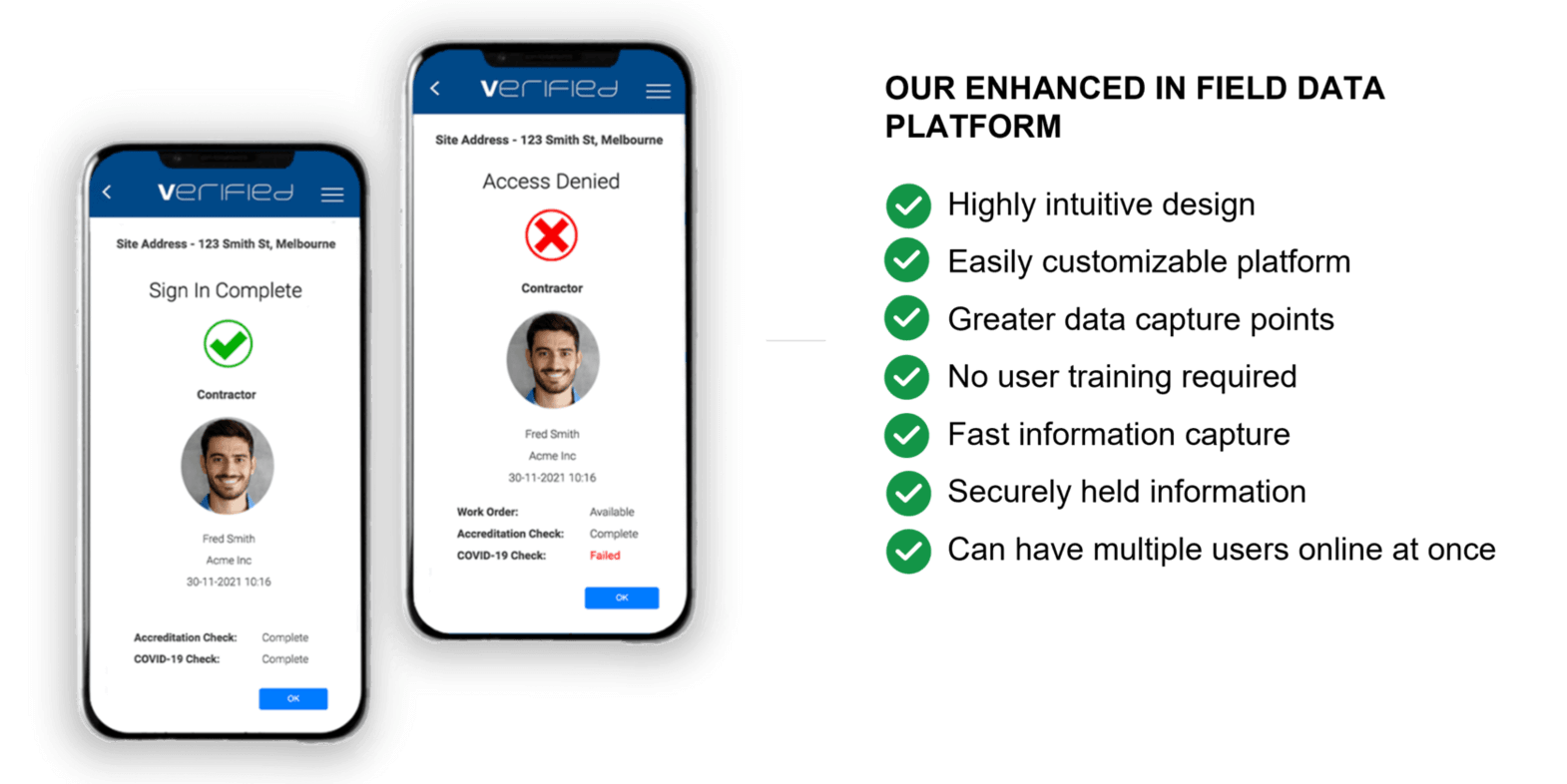 To support a seamless smooth transition for our clients, we commenced a phased roll out of this new platform and will continue to onboard our remaining clients in the coming months. Stay tuned, as we release more platform enhancements and additional upgrades to make management of your portfolio streamlined, accurate and easy.
A New Client – Onboarding Australia's Biggest Property Group
Verified are excited to welcome their newest client, Australia's largest industrial property group and their portfolio spanning over 630 buildings nationally.
The company owns, develops, and manages high-quality, sustainable properties and is listed on the Australian Securities Exchange.
Our client was seeking two key outcomes;
an accurate and reliable digital solution to provide contractor transparency for Essential Safety Measure maintenance and;
a system to store thousands of site-based documentation (such as Occupancy Permits and Fire Engineering Reports).
Verified worked closely with the client's team to successfully implement impactful, fit-for-purpose solutions.
For our client, transitioning systems required quick implementation to ensure no operational interruptions. Despite the complexity of the task, Verified efficiently implemented the solution in 6 weeks and provided ongoing training and support.
The implementation process was seamless with client's contractors easily transitioning to the new platform due to its intuitiveness. Internally, the client's staff were given full access to thousands of documents that were easily searchable and automatically stored in a structured location relating to the relevant site.
As a result of successful implementation of the Verified platform, the client has already seen reduced operational risk across its portfolio with greater data accuracy and management insight. The facility management team has full visibility across hundreds of sites and peace of mind that critical maintenance tasks are completed on time, within budget and compliance documentation is securely stored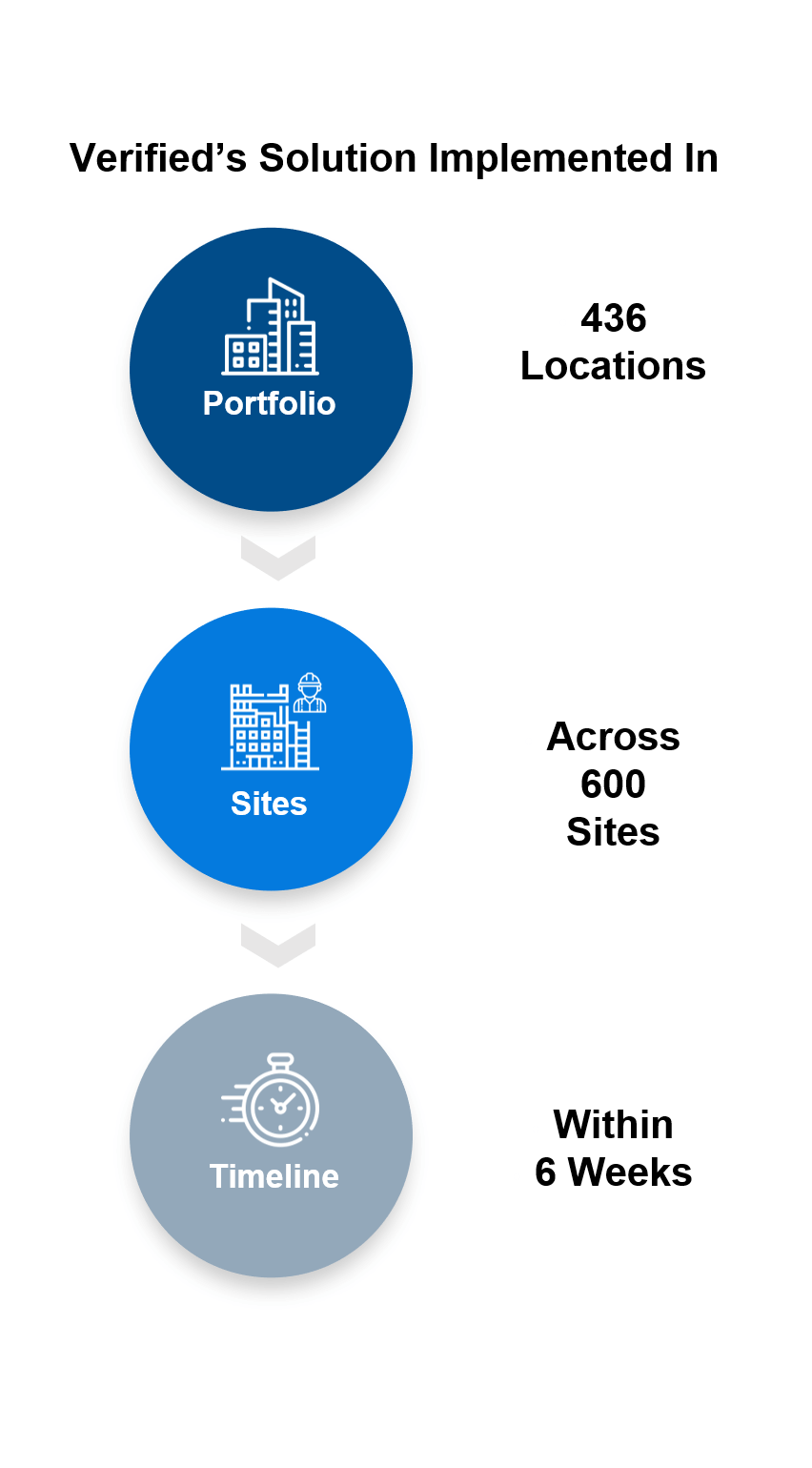 A Powerful & New Module – Verified's Quote Management Tool
2022 saw Verified focusing on how to optimise the quote process for our clients. Our clients were clearly in need for a practical, hands-on product that streamlined procurement processes whilst also facilitating competitive pricing from their contractors. Consequently, we created a market-leading Quote Management module as part of the Verified offering, to provide clients with one platform, one format and one complete picture for all quote related processes..
Key benefits include:
Full lifecycle tracking from quote inception to approval
The ability to seek competitive quotes and easily analyse them
Automatic email notification process to notify contractors about the outcome of their quote
Provision of a detailed audit trail including who quoted, who approved the work and when it was rectified
Transparency on invoices for contracted parts and labour rates
One of the most notable benefits with this module is that clients can pre-load contracted parts, materials, and labour rates for the contractors to select from. If the price doesn't match, the clients are made aware immediately. This innovative model optimised our clients' workflow and without compromising on price, quality, or timeliness. Reach out for an obligation free demo or feel free to share your FM quote challenges with us so we can continue to enhance the module for your business needs.
And that's a wrap from us for 2022! Stay in touch, there's lots more to come in 2023. If you need support or have any questions on how Verified can assist your team manage your facilities better, please send us an email.
Enjoy the festive season and we look forward to hearing from you