The status quo amongst many companies when it comes to work order management is often an Enterprise Resource Program (ERP). An ERP allows for generation and management of work orders for vendors. 
Facility Managers use work orders to streamline their administrative processes for maintenance and repair services. If a Facility Manager has a sizeable portfolio to manage, keeping track of these services and work orders can be time consuming and tedious. This is why most commercial companies utilise Enterprise Resource Program (ERP) software, which provides oversight into which work orders are open or closed. 
Even with this oversight, companies continue to see discrepancies within their work order reports which state work orders are complete, but this is often not the case. It is regularly assumed that if the work order is closed in the ERP, the job has been completed and the vendors invoice is subsequently processed for payment. What is frequently missing is transparency and validation of the services being provided and that works are actually completed onsite.
Paying in Full for Jobs Not Completed
The Facility Managers key performance indicator for work orders is generally based on issuing a work order and getting it closed quickly. Unfortunately, a lot of existing software doesn't include capturing evidence of onsite work completion. These work order management systems allow the contractors administrator, to log into a web portal and close their work orders. In addition, there are often only two options for a work order in these systems, "open" or "closed", there is no option for "not complete". Consequently, the building owner pays in full, and in some cases, without full confidence that the work has been completed in its entirety.
When analysed closely, we have often found that the allocated works have not been completed at all, yet the Building Owner has paid in full for the services. Furthermore, with the significant limitations in accessing labour resources, very few contractors have enough capacity to complete all the jobs they are taking on. As a result, we are witnessing a significant drop-off in the actual delivery of services.
Pay for What You Receive
There is immense value for companies seeking to gain full visibility on their work order process and transparency of onsite activity. Verified's platform provides a two-way solution for work orders that seamlessly integrates with your existing technology and systems. Within Verified's centralised platform location, you can track, approve, report, and synchronize your work orders. This allows clients to only pay for the services that have been delivered, accepted, and completed.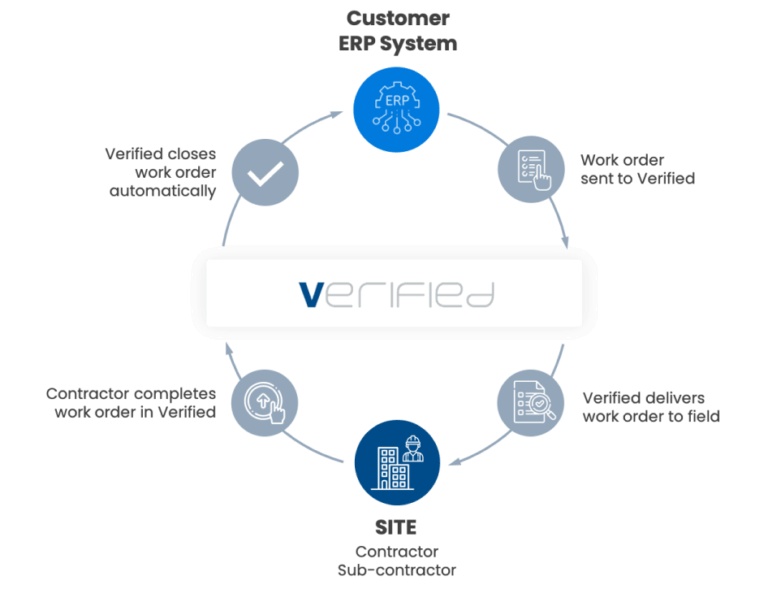 Verified's SaaS based System ensures:
Direct delivery of work orders to onsite technicians, including subcontractors 
Automated work order closure via onsite technicians 
Real time data capture and status updates of work orders 
SLA monitoring and compliance 
Centralised reporting 
Increased organisational efficiency 
In practice, Verified's Work Order Management integration delivers the work order directly to the onsite field technician, so it is clear what services are to be delivered. Once the work has been carried out, the contractor completes the work order in Verified and the system will automatically close the work order in the clients ERP. The result for the Verified client is confirmation and confidence that the work has been carried out to the required standard, budget, and within the set timeframes and SLAs.
Contact The Verified Team Today
For further information on how you can have better work order management practices and systems, call 1300 133 950 or send us an email.