In today's digital age, providing an accessible technology platform is more important than ever. With 1 in 5 Australians living with a disability, businesses have a unique opportunity to demonstrate their commitment to inclusivity by future-proofing their site technology and ensuring equal access for all.
The Need for Web Accessibility – Legal Requirements & Market Demands 
Web accessibility is vital in today's digital landscape, driven by both legal requirements and market demands. Businesses must comply with legal regulations, such as the Disability Discrimination Act in Australia, to ensure equal access for all users. Furthermore, numerous facts and figures continue to outline the growing need for businesses to address accessibility to accommodate their diverse customer base and their staff.

Future-Proofing Your Platforms & Technology – Best Practices
To ensure the best experience for all users and stakeholders, businesses must future-proof their technology, adhering to best practices such as the Web Content Accessibility Guidelines (WCAG). Ensuring readability, proper heading structures, and descriptive link texts, as well as providing alternative text for images and captions or transcripts for audio and video content, are essential steps. In addition, businesses should regularly audit and update their websites for accessibility improvements and consider user feedback to create a more inclusive online experience. 
Web accessibility can be easily achieved by implementing simple strategies such as the following: 
Text Enhancements: Providing descriptive alt text for images helps people with vision impairments understand the content and context of images on your website; 
Contrasting Colours: Ensuring sufficient colour contrast between text and background improves readability for users with low vision or colour blindness; 
Ease of Navigation: Offering keyboard navigation support allows users with mobility impairments to navigate your website without relying on a mouse; and 
Responsive Design: Implementing responsive design allows your website to adapt to various devices and screen sizes, accommodating users with different needs and preferences.
The Widespread Benefits of Embracing Web Accessibility
Embracing web accessibility offers numerous benefits for your businesses and society. By making your web-based technology more accessible, businesses can demonstrate their commitment to inclusivity, expand their workforce and customer base, and mitigate the risk of legal complications. Accessible websites also enhance the user experience for everyone, not just those with disabilities. As a result, businesses can foster brand loyalty and improve their reputation. In the broader context, web accessibility contributes to a more inclusive society where individuals with disabilities have equal opportunities to access information, products, and services, ultimately promoting social equity and empowerment.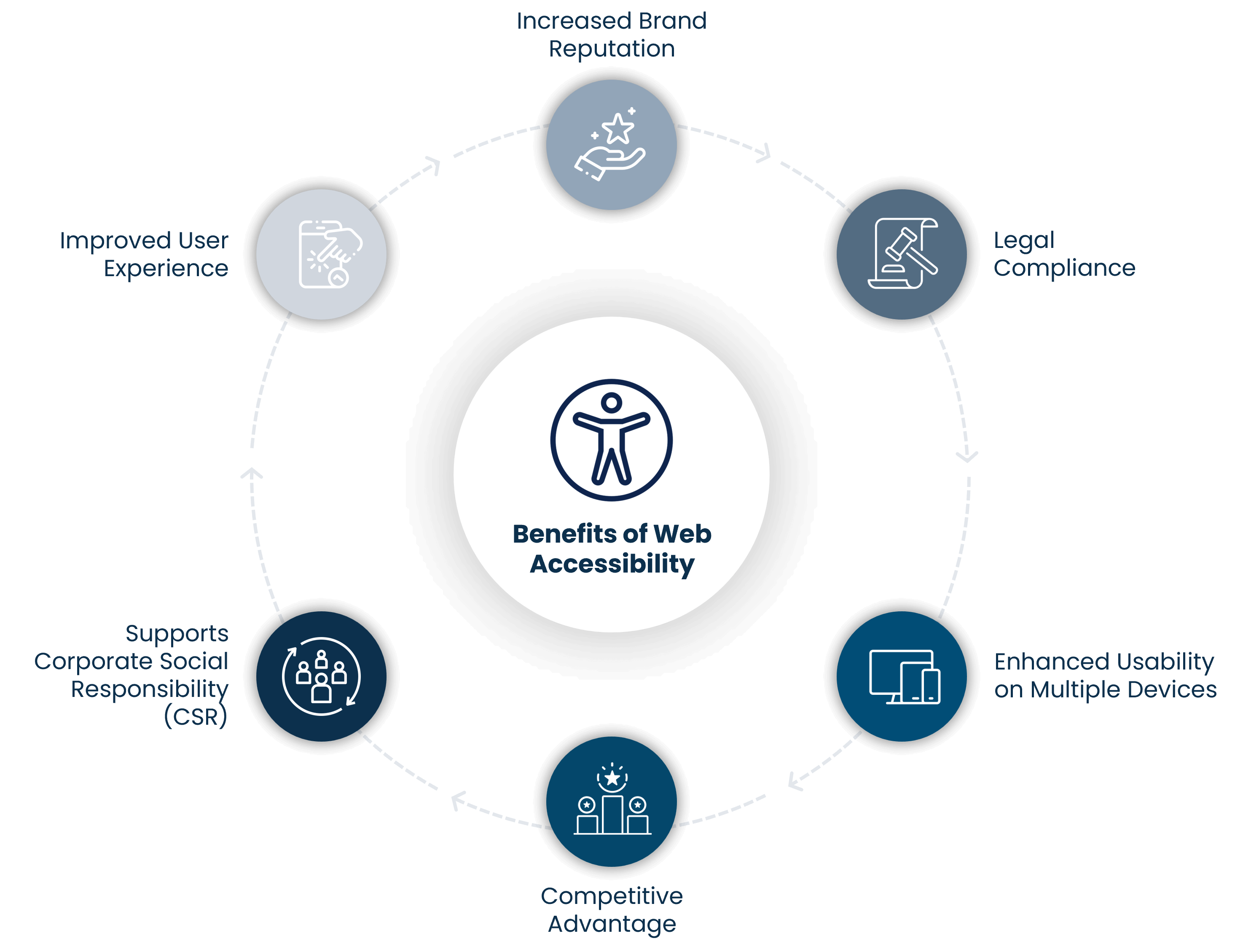 Embracing Web Accessibility for a More Inclusive Digital Future
Adopting an inclusive online presence is not only a legal obligation but a powerful way for businesses to demonstrate their commitment to inclusivity and equal access for all users. By future-proofing website technology, businesses can tap into a broader market, enhance their reputation, and foster a more inclusive digital environment. To ensure compliance and stay up to date with best practices, businesses should refer to the relevant web guidelines such as the Web Content Accessibility Guidelines (WCAG) and regional accessibility laws like Australia's Disability Discrimination Act 1992 . By doing so, businesses can create a more inclusive future and ensure that their online presence is welcoming and accessible to all.