Effective document management plays a vital role in maintaining operations, ensuring compliance, and mitigating risks. However, the ever-growing complexity of document creation, revision, distribution, and retention has highlighted the need for robust systems that offer both efficiency and security.
The Critical Need for Effective Document Management & Accessibility
Where building documentation is lacking, there is a significant reduction in transparency, accountability and the knowledge required for employees and onsite visitors to understand their WH&S, safety, and maintenance obligations. Ineffective documentation management can lead to numerous issues including:
Miscommunication and Errors: Any oversight in communicating policy or process changes can lead to misunderstandings, spiraling into errors that can be expensive or even dangerous. The presence of outdated or contradictory documents adds another layer of complexity, jeopardising core operations.
Compliance and Legal Issues: Every permit, license, or maintenance record is a piece in a vast puzzle of compliance. Without effective document management, pieces can go missing or become outdated, leading to potentially catastrophic legal consequences. Beyond financial penalties and reputational damage, non-compliance can also undermine trust among stakeholders and clients.
Security Breaches & Data Loss: Whether it is digital or physical, every document contains information – some of which can be highly sensitive. An insecure document management system is a veritable goldmine for cybercriminals, offering opportunities for unauthorised access, data manipulation, or even corporate espionage.
Operational Inefficiencies: If employees and contractors waste precious time navigating a labyrinthine file system, it can significantly impede productivity. The chaos of decentralised documents and the absence of a streamlined repository can create operational delays, bottlenecks and deliver poor outcomes.
Loss of Organisational Knowledge: When document management falls by the wayside, it isn't just paper that's lost – it's invaluable institutional knowledge. The departure of key personnel can create knowledge gaps, which, without proper documentation, can become permanent, impairing the organisation's adaptability and growth potential.
The Importance of Enhancing On-Site Document Accessibility
The intricacies of document accessibility can often be overlooked, deemed a back-office necessity rather than a frontline priority. However, the weight of ensuring immediate and pertinent access to documents is significant. Whether it is an employee trying to adhere to company policies, a contractor looking for a specific safety protocol, or a visitor keen on understanding their surroundings, on-the-spot access to crucial documents plays a pivotal role in their on-site experience. Prioritising documentation accessibility is more than a matter of convenience and compliance – it is a strategic imperative. By taking this proactive stance, organisations stand to gain immeasurably:
Ensuring Transparency & Accountability: A comprehensive approach to document management and accessibility cultivates an organisational culture marked by transparency and accountability. When changes occur, they are systematically recorded and shared. This clarity means that every safety measure, procedural update, and maintenance requirement is clearly outlined, offering a transparent audit trail and removing any room for misunderstandings.
Enhanced Compliance Levels: Every individual onsite, from the newest intern to a seasoned contractor, has clarity on their responsibilities and obligations. With easy-to-access documents, this becomes a reality. Anyone stepping onto the premises is empowered with the right information.
Instant Clarity and Empowerment: When needed documents are at one's fingertips, it promotes swift action, informed decision-making, and upholds the high standards set by the facility or organisation.
Proactive Compliance and Operational Efficiency: Immediate accessibility is a proactive step towards ensuring real-time compliance. Plus, with everyone from management to visitors having what they need when they need it, operations are more streamlined, leading to improved outcomes.
For organisations, true advancement lies in implementing market leading solutions that emphasise efficiency, security, and pave the way for operational excellence, risk mitigation, and sustainable growth.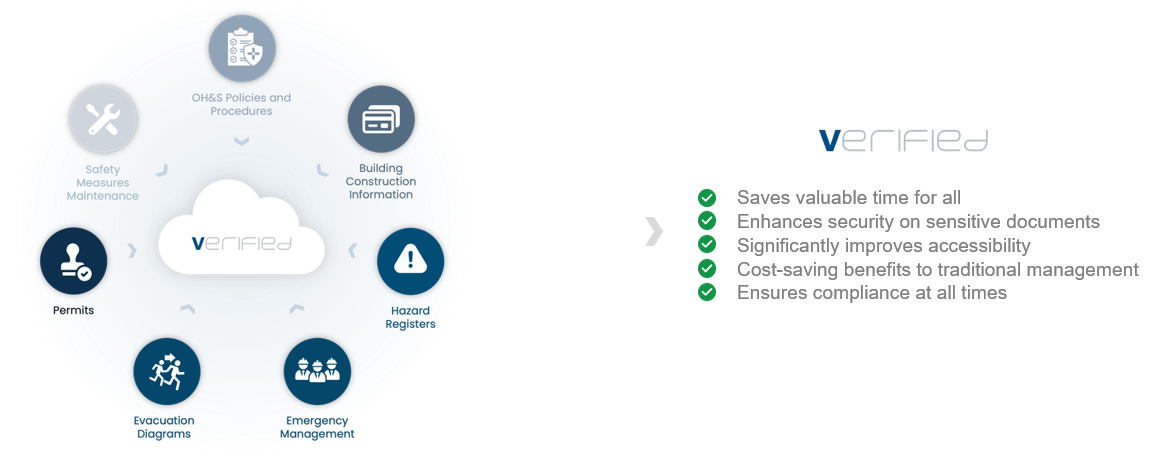 Verified – A Comprehensive Approach to Documentation Control
With over two decades of experience helping clients across thousands of sites daily, we have tailored the perfect documentation solution for our clients and their sites. Our Document Access module, delivers a streamlined, centralised hub for collecting, housing, and distributing crucial business information with ease and efficiency.
Verified's solution addresses the key risks associated with documentation access through a range of unique technology measures to help manage documentation for the changing site landscape. These include:
Robust Security Measures: Verified uses market-leading technology to ensure the security of our client's information. These measures include encryption, access controls, and audit trails, as well as ensuring that sensitive documents are securely stored and accessed only by authorised personnel.
Access Controls: Verified's cloud-based platform allocates access based upon role types. This enables employees, visitors, and contractors to securely access relevant documents from anywhere, at any time, while maintaining appropriate access controls.
A Live, Centralised Storage Location: Verified provides a centralised document repository easily accessible 24/7, enabling businesses to consolidate documents stored across multiple sites and systems into one place.
Verified improves document accessibility and enables building owners and contractors to manage their documents more efficiently and securely by digitising and providing live access to them. Want to learn more? Feel free to give us a call on 1300 133 950 or send us an email.