As facility managers and asset management teams deal with the complexities of adhering to strict maintenance schedules, the industry concept of tolerances has emerged as a critical mechanism, to allow for flexibility without compromising compliance or safety. Tolerances effectively 'bridge the gap' between ideal timelines and real-world challenges to ensure critical maintenance of assets and delivery of tasks whilst guaranteeing compliance.
Read more below about the significance of maintenance tolerances, their integration into Australian industry standards, and how adhering to tolerance levels can help property and facility managers comply with state regulations, ensure the long-term safety/functionality of systems, and minimise the potential for severe penalties and legal consequences.
What Are 'Tolerances'?
The maintenance industry has faced challenges in consistently delivering services according to the prescribed frequencies. The reasons for this inconsistency vary from resource constraints and budget limitations to logistical complexities and unforeseen circumstances. As a result, critical maintenance tasks may be delayed or missed entirely, leading to potential risks, equipment failures, and compromised safety.
To address these issues and promote more realistic maintenance practices, the concept of tolerances was introduced into Australian Fire Safety Standards during 2005. Tolerances provide a reasonable margin of time within which maintenance activities can be performed without compromising service effectiveness. Tolerances have been incorporated into industry standards to ensure service providers deliver maintenance as required.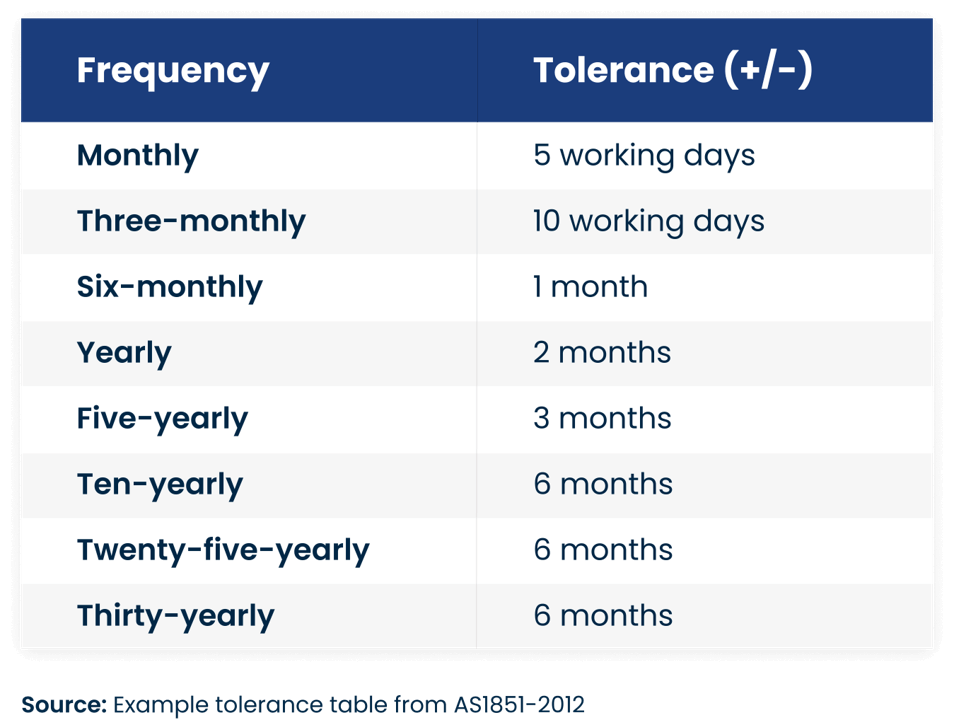 The Key Benefits of Tolerance Adherence
Monitoring and managing delivery within tolerance periods not only helps building owners comply with state regulations but also mitigates potential risks, ensures the safety and functionality of systems, and minimises the potential for penalties or legal consequences. Specifically, benefits of observing tolerances are generally fourfold:
Realistic Service Delivery: Tolerances offer a more practical approach to maintenance, allowing service providers to adapt to unforeseen circumstances, resource limitations, and other challenges while maintaining compliance with standards.
Enhanced Safety & Performance: By ensuring that maintenance activities are carried out within a reasonable timeframe, tolerances help prevent equipment failures, mitigate safety risks, and maintain optimal performance of systems and equipment.
Cost Efficiency: Tolerances enable service providers to plan and allocate resources more effectively, reducing the likelihood of costly emergency repairs due to delayed or neglected maintenance; and
Improved Compliance: The inclusion of tolerances encourages service providers to adhere to maintenance frequencies more consistently, enhancing overall compliance with industry standards and regulations.
Evolving Best Practices:  Adhering to Industry Guidance

As our understanding of system maintenance deepens and evolves, industry guidance continues to refine and document best practice. These adaptations to Standards continue to allow for optimal margins of time for maintenance activities, significantly improving compliance, and ensuring the continued safety and functionality of various assets and systems. Below we highlight key standards, their unique methods of integrating tolerances and how they ultimately enhance the management of organisational assets and safety for individuals.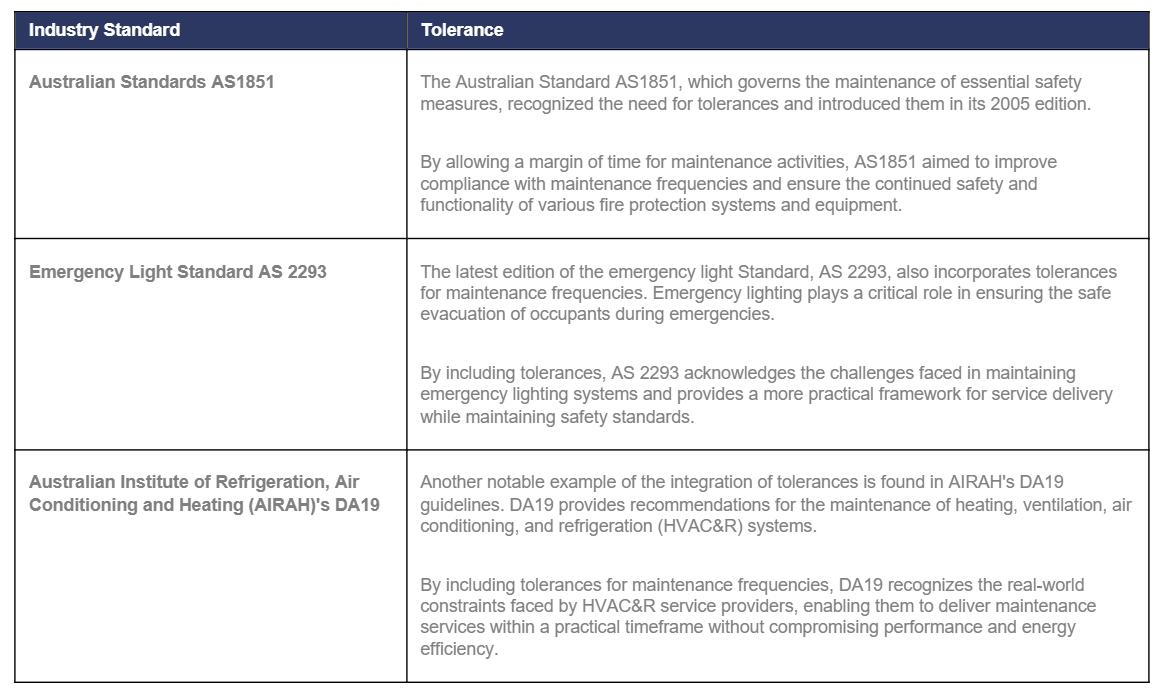 By incorporating tolerances into maintenance standards, Australian industry bodies have taken a proactive step toward ensuring a balance between compliance and practicality. The integration of tolerances allows for realistic maintenance practices while maintaining safety, performance, and efficiency in various building systems. It is through such adaptations that the industry can continue to evolve and meet the demands of a changing landscape while ensuring the well-being and functionality of our organisational environments.
Talk To an Expert – Book A Free Consultation
Property and facility managers play a crucial role in overseeing the maintenance and compliance of buildings and facilities via tolerance adherence. It is essential for managers to closely monitor and manage service delivery within tolerance periods, ensuring maintenance activities are performed within the specified timeframes, as outlined in relevant regulations and standards.
For further insights into tolerance adherence, we invite you to reach out to Glenn Talbot, Managing Director, and founder of Verified. Glenn currently serves as the independent Chair for the Australian Standards Committee FP-001, the body behind the development of AS1851, and is a leading expert within the industry. Please contact us to book a meeting or a conversation with Glenn via email or call on 1300 133 950.